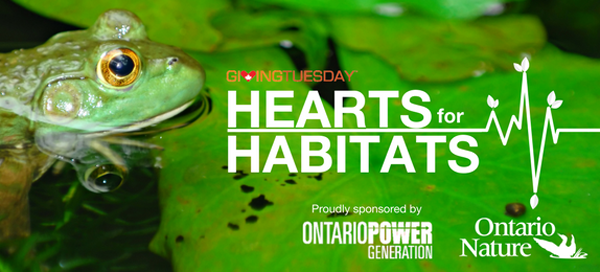 Giving Tuesday Asks you to have a Heart for Habitats
November 28 is Giving Tuesday, a day for people to give to the causes and charities that mean the most to them using savings from Black Friday and Cyber Monday. This year, Giving Tuesday is dedicated to the protection of imperiled habitats in Ontario. Habitat loss, fragmentation and degradation threaten 80 percent of Ontario's species at risk. On Giving Tuesday, help make Ontario a haven for wild species. Every dollar you give, up to $12,000, will be matched by our proud sponsor, Ontario Power Generation.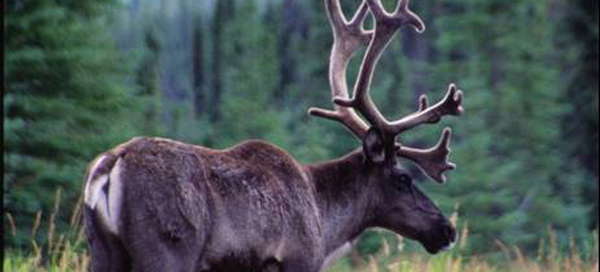 Ontario's Caribou Need Your Help
Boreal woodland caribou are threatened with extinction in Canada. Decades of science show the negative impacts of human activities and natural disturbances within caribou ranges. In 2012, the federal government gave the provinces and territories five years to develop range plans for each of their caribou herds. That deadline has passed without a single range plan finalized in Canada even though industrial expansion is continuing in ranges already at risk. Caribou need habitat protected now more than ever. Please raise your voice for Ontario's caribou.

Indigenous Perspectives on Protected Areas Gathering
Seventy Indigenous and non-Indigenous conservationists gathered in Peterborough on October 24-26 to discuss creating a shared path toward reconciliation around nature protection. Representatives from 14 communities across the province, including Moose Cree First Nation, Wikwemikong First Nation, Alderville First Nation and Walpole Island Land Trust, shared their experiences with protecting nature. The gathering was co-hosted by Plenty Canada, Trent University's Indigenous Environmental Studies/Sciences Program, Walpole Island Land Trust and Ontario Nature with support from the Ontario Ministry of Natural Resources and Forestry and Ontario Biodiversity Council.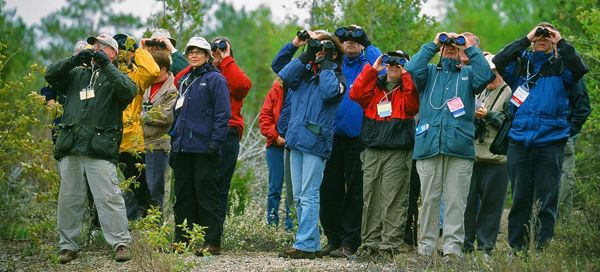 Join a Christmas Bird Count in Your Community
Each year, Christmas Bird Counts give bird lovers a reason to relish winter. This year the counting will take place between December 14 and January 5, and the results will inform long-term studies of bird migration and bird population trends. If your group is organizing a public Christmas Bird Count that you'd like us to help promote, contact Noah Cole with your count details. If you are interested in joining a community count, visit our website for a working list of Ontario Nature member groups running Christmas Bird Counts.

Wreath Making at Cawthra Mulock Nature Reserve
Join us at our wreath making event on Saturday, December 9 at Cawthra Mulock Nature Reserve near Newmarket. This event is part of our 'Branching Out' series, which aims to connect people with nature in creative ways. You can help Ontario Nature remove invasive Scots pine trees on the reserve and take home a unique, sustainable holiday wreath from the cuttings. Come out and create your own holiday wreath while helping return this property to its natural state. Space is limited, so register now to secure your spot.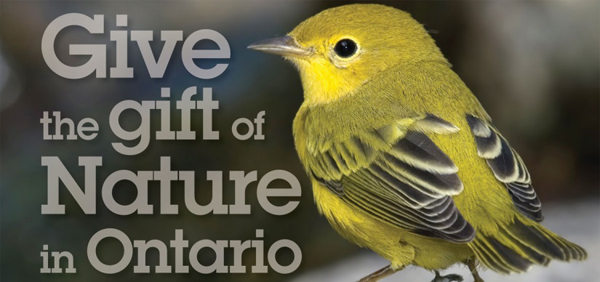 Give the gift of nature today
Order your gifts of Ontario Nature membership today! Each gift of membership comes with a 2018 membership, a special bonus bag of Birds & Beans Ontario Nature blend of organic, fair trade, bird-friendly coffee and five issues of our award-winning quarterly magazine ON Nature. Order yours now and share your love of nature with your friends and family this holiday season. This special offer is available for $50 and you will receive at $35 charitable tax receipt.


Events
Nature London's Nature in the City Lecture Series
Orillia Naturalists' Club
Audubon Christmas Bird Count and Pot Luck Supper, Saturday December 16; for more information or to register contact Fern Splichal at 705-325-2952.
Travels with the Nature Buffs with Chris Evans, Wednesday January 3 @ 7:30pm; for more information contact Heather Ewing at 705-259-0797.
Brereton Field Naturalists' Club
Fat is Good for Polar Bears and Good for

Researchers

, Friday November 17 @ 7:30pm at Northwest Barrie United Church Hall (464 Ferndale Drive North) in Barrie; for more information contact Cay Mills at 705-739-1094.

Lake Simcoe

Migrants

, Saturday November 18 @ 8:00am; meet at the City of Barrie Municipal parking lot on Simcoe Street between Maple and Bayfield; for more information contact Chris Evans at 705-722-1136.

Winter Birds of the Barrie Lakeshore

,

Saturday December 9 @ 9:00am; meet at the City of Barrie Municipal parking Lot on Simcoe Street between Maple and Bayfield; for more information contact Jim Coey at 705-543-1866.

Christmas Bird Count and Potluck Supper, Saturday December 16; registration deadline is December 8; to register contact Chris Evans at 705-722-1136 or chrisgevans55@gmail.com.
Birds of the Galapagos Islands with Justin Peter, Friday January 19 @ 7:30pm at Northwest Barrie United Church Hall (464 Ferndale Drive North) in Barrie; for more information contact Cay Mills at 705-739-1094.
Peninsula Field Naturalists
Wind Turbines with Lorretta Shields, Monday November 27 @ 7:30pm Niagara Regional Headquarters Committee Room 4 (1815 Sir Isaac Brock Way) in St. Catharines; for more information contact Bob Highcock at 905-688-1260.
Bert Miller Nature Club
Are Canadian Mosquitoes More Dangerous Than They Used to be? with Fiona Hunter, Monday November 20 @ 7:00pm at Stevensville Conservation Area (2555 Ott Road) in Stevensville; for more information contact Lynda Goodridge at 905-871-5856.
Saugeen Nature
Norfolk Field Naturalists
Peru and Machu Picchu with Heather Walters, Tuesday January 9 @ 7:30pm at Simcoe Seniors Centre (89 Pond Street) in Simcoe; for more information contact Len at 519-428-6796.
Winter Birding in Haldimand County, Sunday January 21 @ 2:00pm; meet in Port Dover at the base of the dock on the west side of the harbor; for more information contact Len at 519-428-6796.
Credit Valley Conservation
York-Simcoe Naturalists
Midland-Penetanquishene Field Naturalists
From Birder to Birder Murder with Steve Burrows, Thursday November 16 @ 7:30pm at Wye Marsh Wildlife Centre.
Friends of Minesing Wetland
Curling Bonspiel and Annual General Meeting, Saturday November 18; for more information contact Naomi Saunders at naomi_saunders@rogers.com.
Niagara Falls Nature Club

Ducks Along Lake Ontario, Sunday November 19 @ 9:00am; bring a lunch and meet at Tim Horton's at Prudhomme's Landing; for more information contact Paul Philp at 905-894-2723.
Upcoming Deadlines
The next issue of the Nature Network News will be sent on December 15, 2017. The deadline for submissions is December 1, 2017.
Submissions can be sent to naturenetwork@ontarionature.org.
Please note that events can be listed up to two months in advance - allowing others to put it on their calendar well in advance.
Ontario Nature publishes the Ontario Nature Network News every month with contributions from its member groups and staff.
Ontario Nature grants permission for use of the information above in member group newsletters. Please credit either Ontario Nature or the member group.
JOIN US ON: